It sure would help a real estate investor if they had a magic crystal ball.
Sadly, that's not possible. But the next best thing is to be able to spot this trend that will let you determine where to put your money to work for the foreseeable future.
It concerns Millennials.
And before we get in too deep, there are a few important facts to know about Millennials that will bring light to our discussion:
they are officially the largest generation in the United States (there are more living Millennials than even Baby Boomers)

as of this writing, they are now in their prime home-buying years
Now here is where it gets interesting…
According to both the Census Bureau's Current Population Survey and Apartment List's Renter Survey, Millennials are not buying homes at anywhere near the rate of previous generations.
Less Millennials Want To (Or Can) Become Home Buyers Right Now — And It's Unlikely They Will Ever Match The Ownership Rates Of Past Generations
By age 30, roughly 42% of Millennials own homes. This is compared to 48% of Gen Xers and 51% of Boomers at that same age.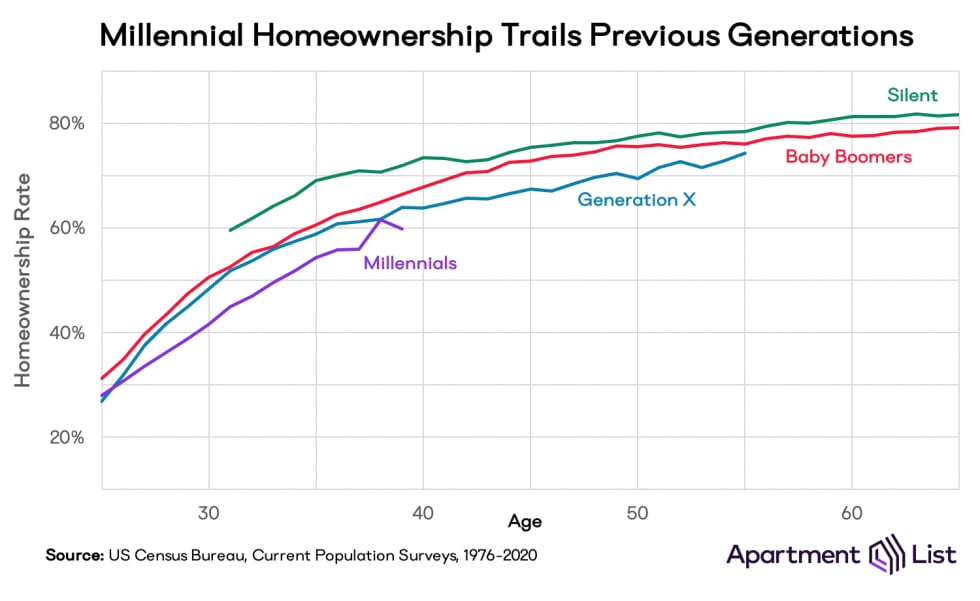 [https://www.apartmentlist.com/research/millennial-homeownership-2021]
The interesting thing is that even though the Millennial home ownership rate has increased lately, the data suggests that it will not be enough to close the generational gap.
As of 2020, the Baby Boomers had a home ownership rate of 78.8%. Gen X had a rate of 69.1%. And the Millennials sat at 47.9%.
Surrounding economic conditions don't look great for Millennials. Yet housing prices remain high.
Which brings us to the effects of the Covid Pandemic.
2020 saw both rising unemployment and rising housing prices.
So while there is certainly a pro-rental culture among Millennials, the major driving force of the low home ownership numbers continues to be affordability. Especially in vibrant urban centers, which tend to be appealing to younger people. 
Now, interest rates have dropped to record lows. But even if it is easier to finance a home, that still favors those who can afford a sizeable down payment. At this point, that excludes many Millennial renters. Among other things, their savings rates are also comparatively lower than the other generations.
And in terms of post-Covid uncertainty, Millennial preferences are rapidly evolving (and may continue to do so, meaning that setting up somewhere for the long term is an unattractive prospect). This includes considerations of remote vs in-person work, location, etc. 
How Can Passive Investors Take Advantage Of Millennial Housing Trends?
Given that Millennials disproportionately rent, and will continue to do so, you should ensure that a major part of your portfolio is allocated to rental housing.
As we've discussed in other articles, commercial real estate (in the form of multifamily apartment syndications) remain a top vehicle for protecting and growing your investment, while offering disproportionately attractive tax breaks as well as saving a ton of your time and energy.
Modern apartment complexes address several desires of Millennials. 
Not just the affordability of renting, but also the community-vibe, wellness amenities, and general convenience. 
You can look for multifamily deals that are located in markets with jobs that are staffed by Millennials, and have a large degree of safety knowing that these residents will continue to want to rent for the foreseeable future.
Understanding the actions and desires of the largest generation in the country will allow you to sift through opportunities and intelligently invest now and moving forward.